The Nine Most Unusual Restaurants in the World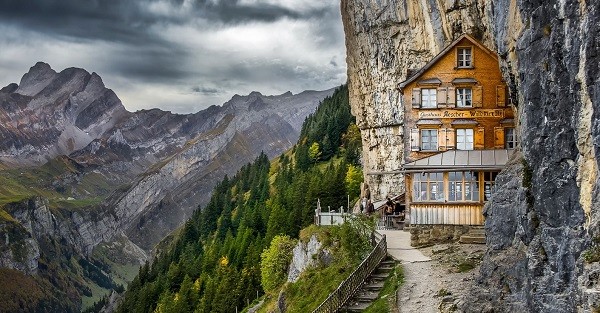 Do you feel as though every single idea for a restaurant has been done, and done, and done again? Do you want to try something new? If you're considering a startup restaurant, you might want to consider ideas from these very unusual restaurants.
Under the Sea
This restaurant is located in Maldives, 16 feet below sea level, and offers a full view of the ocean while you dine. You enter by means of a spiral staircase that is located at the end of a jetty, under a thatched pavilion.


Snow Restaurant
This restaurant is located in Kemi, Finland, and it is literally made out of snow, meaning that it has to be rebuilt each year. It opens in January and serves lunch and dinner. You might want to bring warm clothing, though, because the temperature inside is never more than -5 Celsius.


Berggasthaus Aescher
This restaurant is located in Wasserauen, Switzerland, and is located in the side of a cliff 4,770 feet above sea level. You can reach it by cable car.


Sirocco
This restaurant is located in the Lebua Hotel in Bangkok, 63 floors high and in the open air. Visitors can view the city below as they enjoy Mediterranean cuisine.


Labassin Waterfall Restaurant
Located in the Philippines, this restaurant serves only a buffet lunch. It overlooks a waterfall that was created from the spillway of the Labasin Dam.


The Bedford
This unusual restaurant is actually a reclaimed bank vault in Chicago. The walls are lined with actual working copper lock boxes.


Ayers Rock Resort
If you are visiting Australia, you can enjoy delicacies like kangaroo, crocodile and barramundi under the stars. Following your meal, a star talker will explain the night sky to you, showing you where to locate the planets and galaxies.


The Singapore Flyer
Could you imagine dining 541 feet above the ground in a giant Ferris wheel? The Singapore flyer offers a four-course menu with personalized butler service and wine pairing options.


Ristorante Da Pancrazio
If the macabre is to your liking, you might like to dine in this Roman restaurant, built over the site where Julius Caesar was murdered. You can enjoy traditional Roman cuisine while you ponder the death of an emperor.


This is just a sampling of the various interesting, macabre and romantic locations where you can enjoy a meal and ponder history.