Hospitality Industry! Behold, our greatest invention: Your very own concierge book.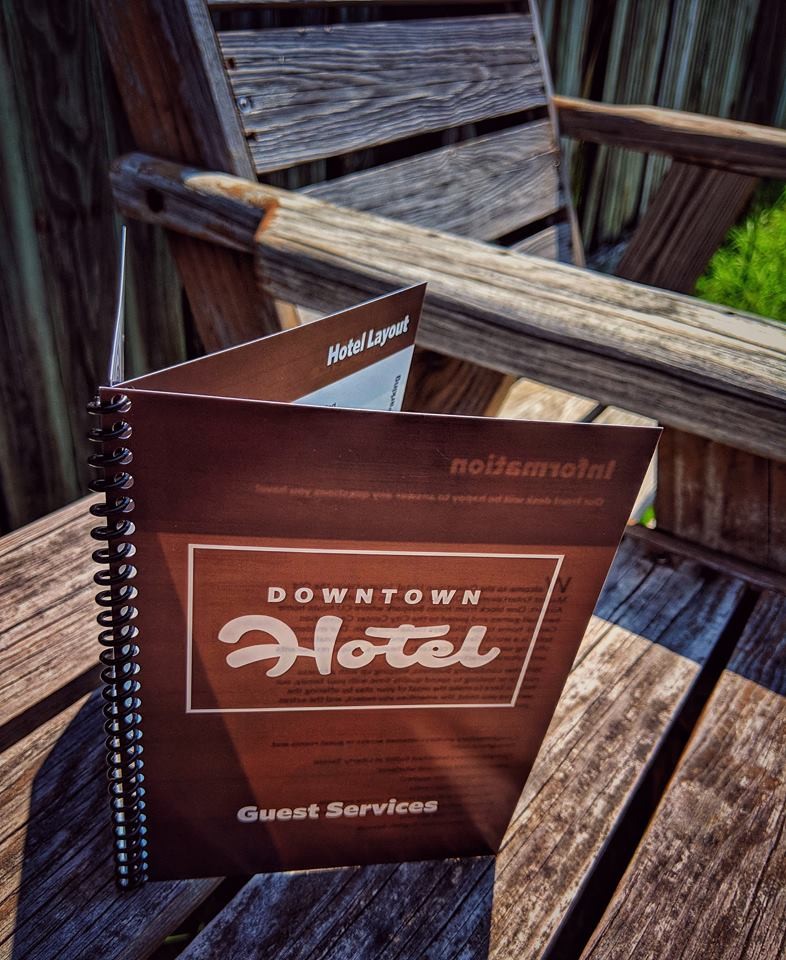 Hospitality Industry! Your very own concierge book.
As a past road warrior and veteran of work travel, I used to rely heavily on the advice of the hotel concierge to point me in the right direction for a great burger, fun night-life spot or best place to visit while in town.
What if you, as a hospitality establishment, were able to offer your own area insight in a way that can connect with your guests and patrons as they passed through town?
Introducing, a unique way to reach those folks: the private label hotel book!
To begin, let's talk about what this book will have in it? Short answer: Anything you want!
Being able to deliver a message is the main point of why businesses market messages.
Waterproofmenu.com has designed a unique way to brand your establishment in a way that connects your visitors with your building and its amenities, your local market place and those things you wanted to promote most within your community.
Here's how it's done:
Branded Covers
The cover of the book and back page is designed to showcase your property, its offerings and the special things that make your business shine.
As an advertising and marketing tool, the cover is the first chance to make a lasting impression, so we can help you design the best looking cover available that can highlight your assets.
The inside cover can contain a greeting message, important patron information (pool hours, check out times, guest services) and allow you to connect with your guest directly as well.
Area Maps the Building and Immediate Area
By including maps in your book, you are connecting the reader with a sense of location as it relates to his room, the grounds, nearby businesses (or perhaps, preferred vendors) and other points of interest within your general vicinity.
Not only will this help address any common FAQ's your front desk receives, it will allow you to proactively promote those areas easily and effectively with anytime reference.
This is golden information for anyone who travels and wants to make the most of their short time visiting town.
Room Service Menus or Local Dining / Night Life Options
By incorporating your own "in-house" services, you expand the opportunity to highlight the most convenient options to your patrons. If you have an on-site restaurant, include their full menu; if you have a bar, add the drink list!
These things, centrally located in a spiral bound book, allow you to shine first. If you don't have any on-site businesses, perhaps you can select a few within walking distance.
Want the kicker? What if we said you can offset your cost to produce this book by selling designated advertising space to those businesses? This opens the door for you to partner with other establishments that best fit your vibe and feel.
Being able to produce the books with "limited fiscal outlay" is always a perk, too!
Must See, Must Do Town Experiences
Offering your guests content on local sightseeing spots, great shopping, unique locations and other local adventures further builds the bond with your readers. This is also a great opportunity to offer advertising options that inevitably offset production costs.
In fact, if done correctly, there is a good chance these books could become additional bottom line profits when the advertising values exceed production costs.
We are more than happy to help you maximize those possibilities with design, layout and content suggestions.
One of the greatest advantages to making the switch to a spiral-bound, waterproof guest services booklet is the comfort in knowing they are virtually indestructible and unable to be dog-eared, destroyed or stained.
With an ability to offset the costs of production by selling coveted advertising space to local businesses, you can produce a larger quantity of books in case they happen to be taken from the room.
Moral of the story, if it makes dollars, it makes sense, and we are confident this makes both!
---
Waterproofmenu.com takes pride in offering the best materials at the most competitive pricing to allow you to create these materials in a cost-effective manner.
Our in-house design team specializes in layout, formats and visual creations that best meet your objectives and willing to work directly with you to ensure your guest services book is informative, captivating and an effective tool in helping to brand and market your business.
Feel free to contact us directly so that we can discuss your next guest services room book. We'll be happy to make it happen for you!