The Skinny About Waterproof: How to Extend the Life of Your Menus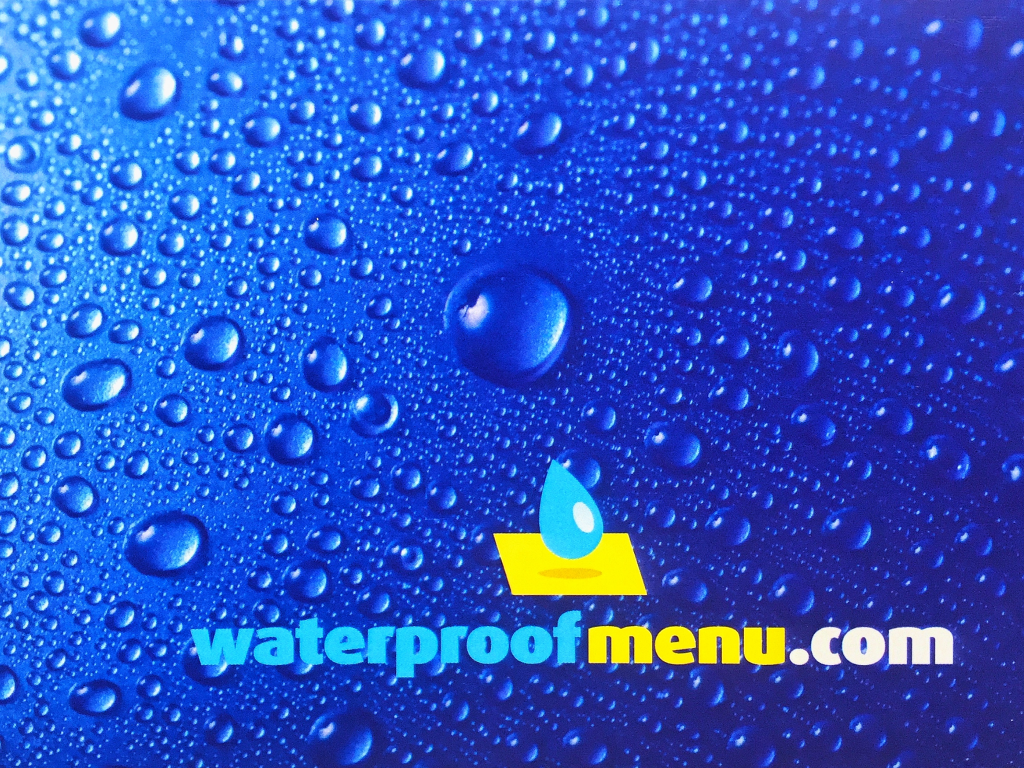 The Skinny About Waterproof: How to Extend the Life of Your Menus
We'll be honest with you: We think our menus are the best thing since sliced bread. We boast about how durable they are, how classy they look and how easy they are to clean – which are all reasons why restaurants are using our menus. However, like anything someone produces, there are limitations as to what is good and bad for our products. Therefore, let's take a few moments to address the "other side of the story" as it relates to extending the life of your waterproof menus. Here's the short and skinny…

YES, our menus are EASY TO CLEAN… However, be careful what you use to clean them.

One of the biggest perks of using waterproof menus is how easy they can be cleaned after a messy service. The preferred method is simply washing them down with a soft rag and some warm soapy water and then letting them air dry in a dish rack. Our menus are designed to be washed easily this way. With that being said, if you decide to use a different method to clean your menus, you might encounter a few issues. Here are the more common ones:

- Scrubbing your menus with a Brillo pad or other abrasive sponge will increase the chances of scratching the print off the menus or leaving fine swirl marks where the pad was used. A soft wet dish towel or rag is all you need to give them a good scrub.

- Using cleaning chemicals like Pledge, disinfectant sprays or Windex may damage the waterproof ink on the menus. Warm soapy water is the best agent to clean up messy menus.

- Dishwashers can damage a menu, too. To some extent, our menus are dishwasher safe; however, there's a chance you can damage them while running them through a 180+ temp washer.

YES, our menus are really waterproof… NO! They do not need to be laminated.

Unlike laminated menus, our waterproof menus are designed to never crinkle around the edges, leave water rings or marks, split along the sides, separate at the corners or get bent up. Our waterproof menus are designed to withstand not only water, but heavy use and thus they can last many times longer than a laminated menu.

NO, our menus DON'T RIP… However, they MAY Scratch.

One of the biggest gripes about our menus is their ability to scratch if you side them across rough surfaces or handling them improperly. Much
Like most printing techniques, our menus are produced in a printer that laser prints without using any seals, coatings or emulsifiers. This means that if your printed menus are exposed to sharp edges or rough surfaces, they may scratch. Concrete or pebble stone countertops are the biggest culprits. If you have these types of table tops, you might consider something other than a waterproof menu for those locations. However, if your table tops are smooth and not abrasive like sandpaper, there's no real threat to scratching our menus with everyday use.

YES, our menus really are stain resistant… However, permanent markers, paints and dyes will leave a mark.

This isn't really a problem in the restaurant world; however, it should be stated. Even though our waterproof menus are stain resistant (meaning, if you spill wine it can be wiped up without a trace) but, if permanent things like sharpies, spray paint, or coloring dyes hit the waterproof material, they WILL leave a mark. Therefore, be mindful if you have these items around your menus.
The best thing you can do for your waterproof menus to make them last is use them for what they were designed to do!

We designed our waterproof menus to withstand some pretty tough working environments, and although we pointed out some ways that can hinder the lifespan of the menus, we are confident you will notice a dramatic difference in how your menus are presented, how well they last, and how effective they are at saving money on replacement costs and reprints. By following the basic guidelines above, we are certain our menus will stand up to the rigorous demands of your busy establishment. Feel free to reach out to us directly if you'd like to receive a free sample to test out and see for yourself.

(Waterproofmenu.com was founded by folks who have spent many years working in the food service and hospitality sector. We understand the need and importance of offering a menu that highlights the quality, cleanliness and service of level our customers provide and deliver a clean, sharp, vibrant product for you to use. Thank you for considering waterproofmenu.com as your laminate replacement.)