What the Die Cut? How to make your Restaurant Menu ONE-OF-A-KIND!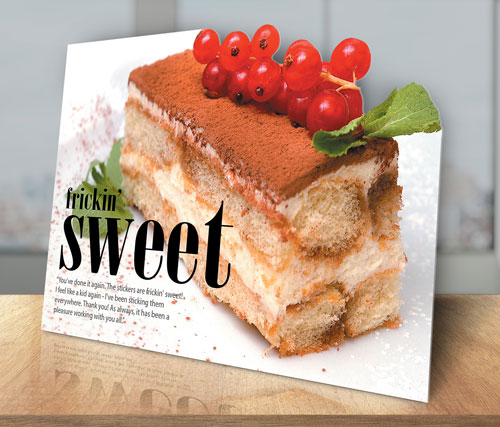 Let's take a second and talk about why die cuts can make a restaurant unique, shall we?
We have all visited those restaurants that go the extra mile to ensure you remember your dining experience. Perhaps it's the bubbly waiter, rocking some flair heavy lapel-pin riddled suspenders, or vintage surf nostalgia, hanging from the rafters like ancient wave rider trophies. Those restaurants understand the concept behind linking their restaurant to a pleasant visit and they go the extra mile to make their experience unique.
Enter, the endless possibilities of the die-cut waterproof menu!
Adding die cut pages to your menu is like adding extra jalapenos to your cheeseburger – you know they are there after the first bite and the memory lasts long after the burger is gone.
Ever visit a restaurant, open the menu and have something unique on the page jump out and grab your attention?
Maybe it's an insert shaped like a beer mug printed with the listing for every craft beer available on tap, or maybe it's a menu shaped like a slice of pie listing all the special pies available for dessert. Ever see the cool "tall malt sundae" cut out with every milkshake flavor ever made? (Me neither, but if they did, I'd be there!) Well, that's what a one-of-a-kind die cut page in your menu can deliver.
"You never get a second chance to make a first impression" – Sure, that might have been the tag line for Head & Shoulders shampoo back in the 80's but the words couldn't be truer. First impressions can make or break a restaurant.
It's a well-known industry fact: Your menu is the first thing guests truly scrutinize and rightfully so.
By adding a special die cut page, you can transform a regular "flip the page" menu into something interactive with the reader, thus holding their attention longer. The truth is, there is a science behind menu design. Understanding how to best capture your readers attention with these little tricks will help to maximize overall ticket value.
So, how can a little Mom & Pop restaurant compete against the big boys?

By being nimble and unique!
One of the greatest advantages to a small business is how nimble and adventurous you can be with your products.
Offering neat little tricks (like die cut pages) can be a quick and easy decision at the small business level, allowing you to jump quicker (and cheaper) than a large corporate restaurant chain.
You can try new things, add or remove items, re-market on the fly and put your own twist on dishes, your image and your overall feel, whereas larger restaurants have protocols, hierarchies and committees.
So, ask yourself, small restaurant business owner, who else is doing something cool with their menu?
The answer is: very few others. I see a lot of restaurants and the majority have standard "flip the page" menus. Now is your chance to stand out!
You don't need lapel pins, vintage artifacts or knickknacks to do it. You just need a little bit of creativity (or drop waterproofmenu.com a line and brainstorm ideas with one of our in-house menu design professionals).
We can work with you to develop something totally unique that will stack your menu while knocking your branding and marketing efforts of the park!
Don't ask for my opinion, though – I'd simply suggest, an old-school malt-sundae shaped die cut page, labeled "Milkshakes & Sundaes" with every type of shake, malt and ice cream sundae known to man. Yeah… I love milkshakes.